Go with the Flow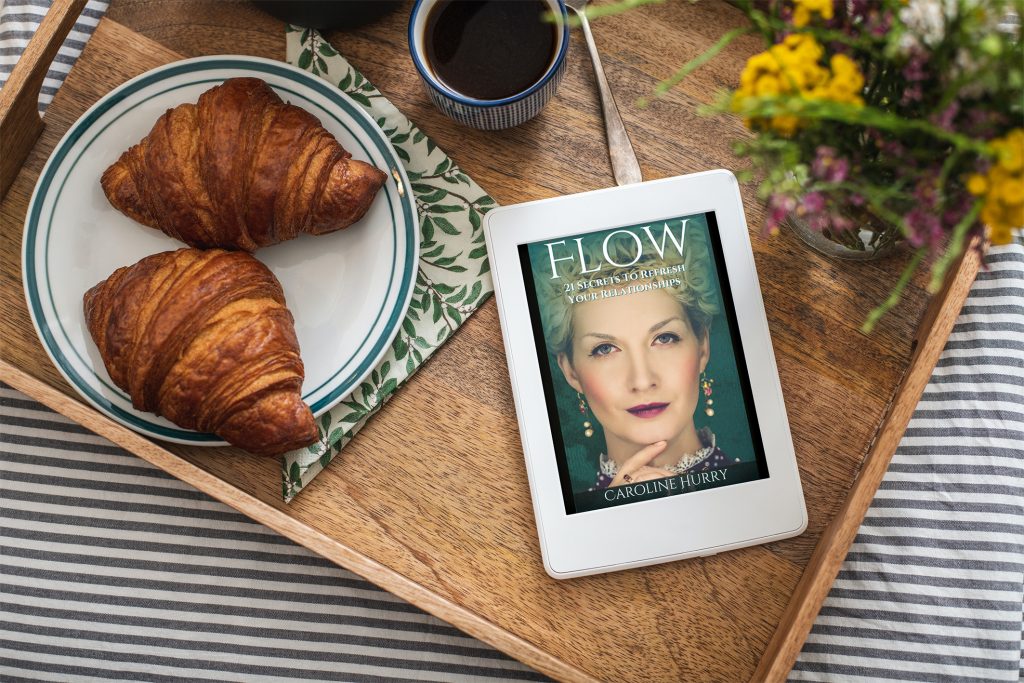 Watch a book trailer or see more reviews 
Have you lost trust in fairytales, unicorns, and gallant knights? This entertaining reservoir of true-life experiences is short on recriminations and long on no-nonsense practical advice.
Flow is like no other book on relationships. Rich language and entertaining humor honed from decades of working as an agony aunt for mainstream magazines deliver hard-won wisdom packaged in bite-sized pieces.
The second in Caroline Hurry's Hygge Queen series – Flow 21 dating secrets to refresh your relationships, brings to life the Water Queen through the eyes of the Handmaiden and Lady-in-Waiting.
One of six elemental Queens outlined in Reign 16 Secrets from 6 Queens to rule your world with clarity, connection & sovereignty; the irresistible Water Queen is either feted, feared, or adored. There's no in-between.
The Handmaiden and the Lady-In-Waiting lead you to her through two galleries of cads and catfish. Inside you'll find insights into how Gaslighter Gary and Narcissist Nick operate, and tips on how to counteract their toxic tools. You'll learn to read men like a book and turn the page on time-wasters.
Flow 21 Secrets To Refresh Your Relationships is an outstretched hand to anyone who has slipped on the treacherous rocks of romance and essential reading if you're contemplating dipping your toes in the dating pool again.
Jump in – the water's fine:
Allow better possibilities to flow to you.
Build immunity to silver-tongued dialogue merchants, misogynists, and narcissists.
Create healthy, supportive relationships naturally
Change your life from the inside out
Dissolve undesirable relationship habits, heartache, and redundant versions of yourself.
Increase your magnetism
Others Say
'I wish someone had written a book like this for me before I skipped through the paved Paradise of promising beginnings, ignoring sheet-sized, flailing red flags lured by fantasies of my own making. It might have saved me time and heartache.'
– Helen Grange, journalist
'This fabulously honest book features abundant wisdom and wittiness. It's a must-read for any woman who has loved, lost, and lived to tell the tale. After reading it, you'll emerge wiser, braver, and more enlightened about relationships!'
 – Lauren Burley , editor
'A woman's book judging by the cover and series, Flow 21 Dating Secrets is more of a gem for men. You'll find none of the misogynistic fantasies that typically recommend dubious gaslighting techniques to trick a woman into becoming dependent on them.
'You'll find yourself laughing out loud with relief that you are nothing like the characters in the rogue galleries. By offering no-holds-barred descriptions of which men repel the kind of woman you'd want to attract – a lady-in-waiting, if not a queen – Flow 21 Secrets provides a perfect blueprint on what not to do. This light-hearted look at relationships that reads like pulp fiction is just the tonic you need.'
– David White, author of The Authority Figure
Book: Flow 21 Dating Secrets to Refresh Your Relationships
Publisher: Hygge Books (LLC)
'Timeless wisdom, from the conscious use of water to its role in transformational thinking, is captured in laugh-out-loud moments.'
Sending a cyber hug to anyone who takes the time to leave an Amazon review for Flow here